Age:18
Date of Birth: January 31, 1995
Species: Human
Hair Color: Red(long and wavy)
Eye Color: Blue
Family:
Occupation:
High School Student
Singer
Dancer(sometimes)
Actress
Favorite Songs:
Alive by Leona Lewis
Run by Leona Lewis
When I Look At You by Miley Cyrus
Unforgettable by Paula DeAnda
Love Interest: Troy Legend and Tyler Moon
Actress: Nathalia Ramos
Natalie is the main female character and main protagonist. She lives in Silent Valley, with her father,
Brock Johnson
, mother,
Nina Johnson
, and brother,
Brody Johnson
. She was in a relationship with Tyler until their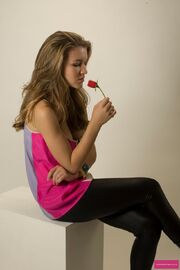 differences tore them apart. Later on, she is saved by Troy from a certain accident and begins to fall for him. She is a kind, caring, sweet girl who is always there to help others. Natalie has a desire to live forever. Also interested in singing and acting.
Physical Appearance
Edit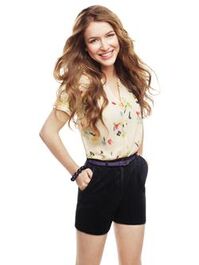 Natalie is a beautiful young woman with long red hair and blue eyes. Her height is about 5'6". She loves fashion. She usually wears girly clothes such as pretty dresses, cute tops, skirts, skinny jeans, heels, and flats.
In Roses Entwined, Natalie is at a party with her best friend, Lita Curtiss, and they talk about life and love. When Natalie leaves, she is attacked by an unknown man and is saved by Troy Legend. When she gets home, she finds a pendant in her pocket, believing it is from Troy. The next night, at the club, she sees Troy again only to see him leave because of Tyler and Will's rude actions. When she goes after him, she finds him being attacked by some guys and tries to help him.