Age:21/204
Date of Birth: Feburary 11, 1809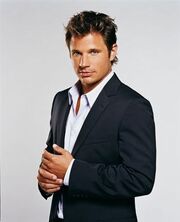 Date of Death: Feburary 1, 1830
Species: Vampire
Hair Color: Dark Brown (short)
Eye Color: Green
Family:
Wife(deceased)
Eric Legend(son, possibly deceased)
Father(deceased)
Mother(unknown)
Fredrick Legend(brother, possibly deceased)
Love Interest: Natalie Johnson
Actor: Nick Lachey
Troy is the main male character and main protagonist. He saves Natalie from a certain accident and their lives become entwined. He is a cold and rude person but deep down, he is caring and sweet. Later on, he falls in love with Natalie and they create a rather close relationship with each other. Troy also has the ability to contact others through their mind.
He was born in the 1800s until he beame a vampire. His return to Silent Valley is unknown. Currently lives in Legend Manor.
Physical Appearance
Edit
Troy appears to be in his early 20s, has green eyes and dark brown hair. He has a good physique, toned and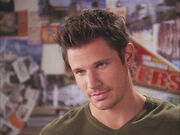 fit. Women always fall for his good looks and muscular body but as always he rejects them except Natalie. Many women describe him as very sexy but Natalie describes him as beautiful, her knight in shining armor.